There are many restorative dentistry services that require more than one visit to complete. Because they are manufactured offsite by a third-party dental lab, bridges, inlays/onlays, and dental crowns can all necessitate multiple visits. While this is necessary for certain types of cosmetic restorations, functional restorations like dental crowns don't have to be manufactured by a third-party. With CEREC dental restorations offered at our Indianapolis office, Dr. Phelps can protect and enhance your smile over the course of a single visit, saving you time and money, and protecting your smile against further damage in the shortest time possible.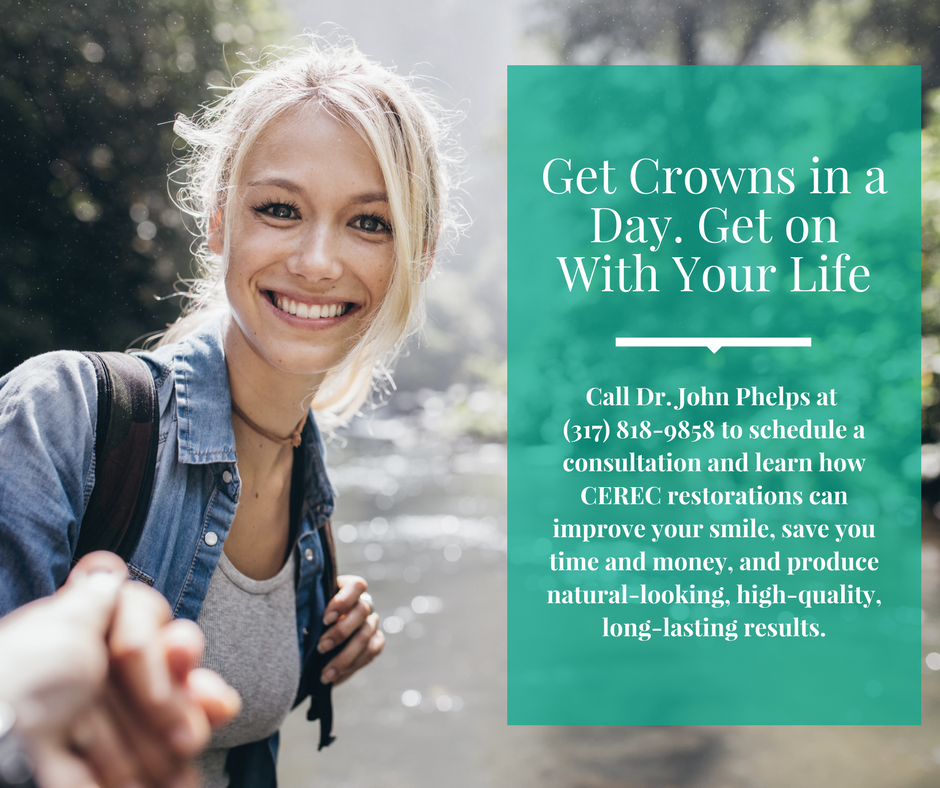 What is CEREC Dentistry?
CEREC dentistry uses advanced CAD/CAM technology to create natural-looking and durable dental restorations out of high-quality ceramics. Milled from a single block of feldspar or glass-ceramic material, CEREC dental crowns, inlays/onlays, and bridges are shaded and shaped to fit unobtrusively into your smile. In fact, with CEREC dental restorations, Dr. Phelps can flawlessly perfect your smile while strengthening and protecting teeth damaged by trauma and decay – all without requiring you to return to our office for multiple preparatory treatments.
Fast, aesthetically pleasing, and incredibly strong, CEREC dental restorations are modeled on digital impressions that give detailed information about your smile that may otherwise be missed. Traditional methods of crown creation often rely on wax models for design – a factor that sometimes further delays the placement of your dental restorations.
It is not uncommon for traditionally manufactured dental crowns and restorations to be ill-fitted, incorrectly sized, or improperly shaded, requiring they be returned to a dental lab for reworking. By using digital images and advanced CAD/CAM software, the risk of imperfections is greatly reduced. This is just one more benefit offered by the single visit dental restorations at our Indianapolis office.
Dental Crowns in a Single Visit
Single visit dental crowns have become the face of CEREC dentistry – and for good reason. Dental crowns are often needed for dental emergencies like broken teeth that require immediate attention. Without CEREC technology, a temporary crown will be placed while one that is designed for your smile is created by lab technicians who have never actually seen your smile. They may even be in a different city or state. Worse still, the temporary dental crowns placed while you wait for your more permanent restorations are often uncomfortable, poorly fitted, and unattractive. These issues can be completely avoided when CEREC services are available.
Advanced CEREC technology allows Dr. Phelps to treat dental emergencies as they arise – producing a strong, attractive, and durable dental crown on the day it is needed. This helps you avoid the discomfort and embarrassment that can come from temporary crowns without compromising the integrity or beauty offered by crowns that have been created by a third-party.
In addition to same day dental crowns, CEREC restorations include:
Inlays and onlays for the treatment of tooth decay
Dental bridges for the treatment of missing teeth
Veneers for instant orthodontics and surface repairs
Restorations created with CEREC dentistry at our Indianapolis office are biocompatible, tooth-colored, and strong. During your visit, Dr. Phelps will assess your teeth and discuss your needs to help you decide if same day restorations are the best fit for your smile.
How Long Should CEREC Dental Restorations Last?
It is reasonable to expect dental crowns to last for 10 – 15 years. This is true of crowns milled offsite as well as those made with CEREC technology. Inlays and onlays, whether created by a third-party or Dr. Phelps, typically last for 20 years or more. How long your CEREC dental restorations last is, however, partially up to you.
With proper care, CEREC dental restorations may last for decades. Without proper care, you may need to have your restorations replaced every few years.
So how, exactly, can you help your same day dental restorations last? It's really not difficult at all.
To maintain your CEREC dental restorations:
Use a soft bristled toothbrush. Medium bristles and hard manual brushing can scratch and damage even the strongest dental restoration. Using a soft bristled toothbrush and brushing gently can help prevent this problem.
Use a nonabrasive toothpaste. Try to avoid ingredients like baking soda. Abrasive ingredients, even "microbeads," can scratch and damage dental restorations.
Floss morning and night. Flossing along the sides of dental restorations helps prevent decay from forming underneath and along the edges where they are bonded to the teeth.
Do not chew ice or hard candy. Ice, hard candy, and plastics can all chip or damage dental restorations.
Visit us every six months for examinations. Biannual visits for professional tooth cleaning and examination are essential for the health and beauty of your smile. If you have CEREC restorations, these visits also give Dr. Phelps an opportunity to check their integrity, ensure they are properly secured and offer quick replacements when needed.
Crowns in a day, same day dental bridges, and other single-visit restorations are milled from incredibly durable materials. Care for them properly and they will continue to protect and enhance your smile for years to come.
CEREC Dentistry Costs
CEREC restorations are faster and often less expensive than those created by a third-party. By cutting out the middle man, Dr. Phelps is able to pass savings onto our patients, allowing you to keep more of your hard-earned cash without compromising on quality.
We work with many insurance companies to pay for CEREC restorations. We also accept cash and most major credit cards for cosmetic restorations that are not typically covered by insurance. If these options are not suitable for your needs, we would be happy to discuss same day cosmetic dentistry financing during your initial consultation.
We work with CareCredit® a trusted and reputable healthcare financing company that offers a range of payment options to help make CEREC restorations affordable for all. With plans that include 0% APR or low, fixed monthly rates, CareCredit can be used to finance your procedure in part or in whole. You can apply for CEREC financing online by clicking here or we can provide you with an application during your initial consultation.
If you are ready to schedule a consultation and learn more about CEREC dental restorations and additional services offered by our prosthodontist in Indianapolis, please call 317-548-6217 today. Dr. Phelps offers CEREC dental restorations to men and women living in Carmel, Noblesville, and all surrounding areas of Indiana.