CEREC Dentistry: Same Day Dental Restorations
Implant, Esthetic and Reconstructive Dentistry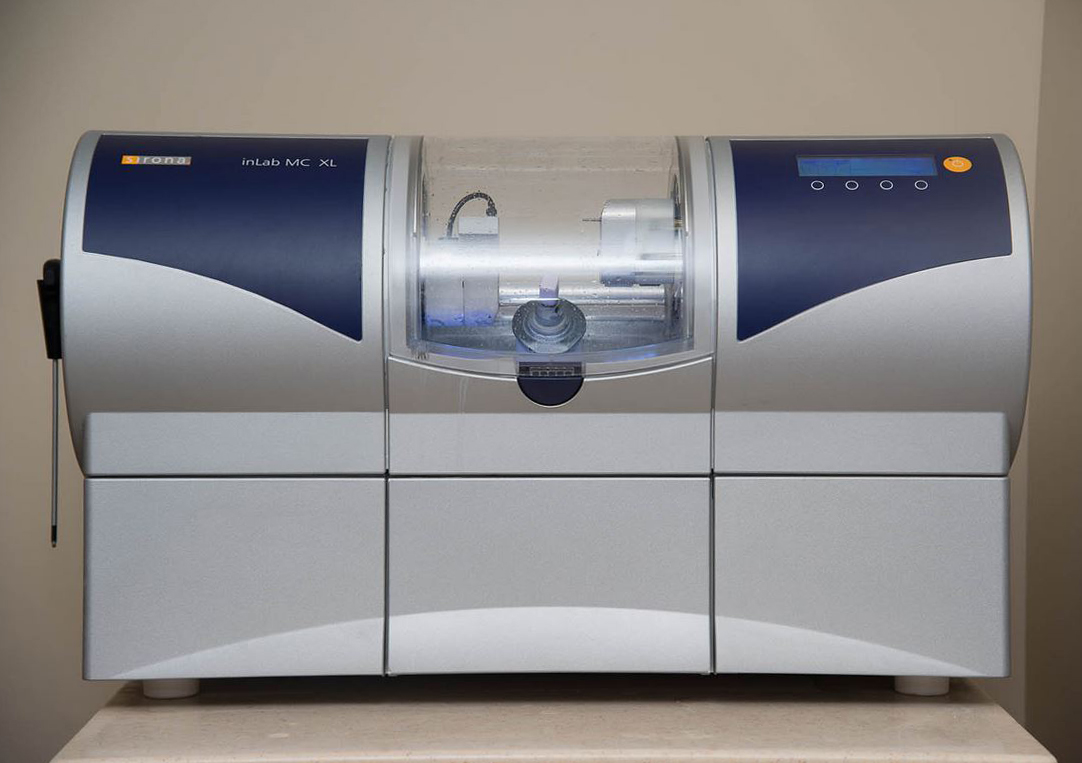 Dr. Phelps has long been committed to providing his Indianapolis-area patients with the highest quality dental technology. We want to meet all of your dental needs with the best materials and the safest procedures.
That commitment is demonstrated through our use of a CEREC machine. With CEREC, Dr. Phelps can create and place high-quality ceramic restorations dental crowns and fillings, for examples) in a single visit.
This exciting technology is well-loved by our patients, who no longer need multiple office visits to receive vital ceramic restorations.
If you live in the Indianapolis, Indiana area and you want to speak with our CEREC dentist about your options, please call Dr. John Phelps at 317-818-9858.
A Look at Lab-Created Restorations
In the traditional method of creating dental restorations, your dentist would first take multiple impressions of your teeth using a hydrocolloid impression material. While hydrocolloid is "non-sticky," it often leaves balls of impression material stuck to and in between teeth. This can be unpleasant and may last for several hours causing some patients to gag or become otherwise uncomfortable.
After impressions have been created, traditional restorations are sent away to a lab, where technicians who have never seen your actual smile are tasked with creating restorations that match adjacent teeth in color shape and size. Many times, dental labs get it right and adjustments are unnecessary. Sometimes, however, changes will be needed to ensure your restoration in both strong and attractive.
This process, from start to finish, could take anywhere from two to six weeks, during which time a temporary crown or dental bridge would need to be worn. Temporary restorations often look out of place in a smile and they can be somewhat uncomfortable as well.
It wasn't a bad system, and the resulting pieces of dental work were quite strong. However, CEREC makes the entire process much more efficient and much less unpleasant.
What are CEREC Single Visit Dental Restorations?
CEREC stands for "Chairside Economical Restoration of Esthetic Ceramics." It uses computer-assisted design and computer-aided manufacturing (CAD/CAM) to quickly create ceramic restorations in just one visit.
Commonly, CEREC is used for dental crowns. Crowns, sometimes known as "caps," are placed over teeth that have been severely damaged through decay or trauma. They can also be used to cover an implant for the replacement of missing teeth. CEREC restorations are milled from a single block of zirconia or ceramic, helping them retain their strength and stability. They can be shaded, shaped, and sized to fit perfectly into your smile in a single office visit as well, eliminating the need for temporary restorations and allowing the entire process to be overseen by a dentist who is familiar with your smile, your desires, and your needs
CEREC can be used to create:
Depending on your specific needs, CEREC same day restorations can be used for cosmetic or functional purposes and is suitable for nearly every patient. If a same day restoration makes sense for you, Dr. Phelps can discuss all of your options during your next visit to our Indianapolis office.
How CEREC Dentistry & One Day Restorations Works
Here's how our CEREC Process works:
And that's it. No messy impression materials. No ill-fitting temporary restorations. No waiting for your smile to look and feel comfortable. Just walk in, get fixed, and walk out.
 Dr. John Phelps is a prosthodontist who has been serving Indianapolis for more than 20 years. Experienced, caring, and attentive, Dr. Phelps is known for the quality of his work and remarkable care given to his patients. Dr. Phelps is pleased to accept several payment options for CEREC restorations, including financing through CareCredit, though insurance often covers the cost of same day crowns and bridges. If you have questions about financing or need help with your new patient forms, we can discuss specifics during your initial consultation.
How Long do CEREC Restorations Last?
CEREC restorations, like most dental restorations, can be expected to last 10 or more years if cared for properly. It is important to remember that, similar to porcelain, CEREC restorations cannot be whitened, making stain prevention a key part of maintenance. Fortunately, taking care of same day dental crowns is not very difficult.CEREC restorations can be scratched. It is best to brush your teeth with a non-abrasive toothpaste to help prevent this. Use a soft-bristled toothbrush as well to help prevent damage and make sure to:
Biannual visits to our Indianapolis dental office help ensure your natural teeth remain strong, your gums remain disease free, and your CEREC restorations remain attractive. During these visits all of your restorations will be assessed allowing those near their life-expectancy to be addressed in a timely manner. t is important to remember that porcelain restorations cannot be expected to last much longer than ten years, either. In fact, barring dental implants, nearly all restorations will have to be adjusted as time passes. Caring for your teeth, even those that are made of ceramic, is the best way to prevent frequent changes to your smile.
 If you're an Indianapolis, Carmel, or Noblesville, Indiana area resident and you think CEREC dental restorations sound intriguing, please call Dr. John Phelps at 317-818-9858 today. Dr. Phelps welcome patients from Bainbridge, Knightstown, Providence, and all surrounding communities.