Implant, Esthetic and Reconstructive Dentistry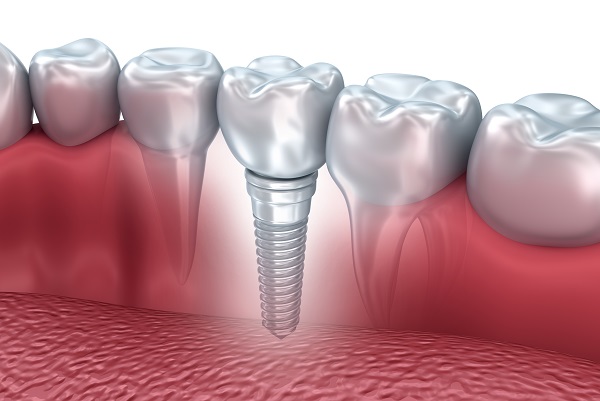 If you have missing teeth you may feel self-conscious about your smile and withhold a special part of yourself from the world. It can affect your confidence and how you interact with others. Missing teeth can also be a cause of serious oral health issues. When left untreated it can affect your remaining teeth and jaw in ways that can prove costly for your health and wallet in the future. Dr. John Phelps DDS, MSD is a prosthodontist with years of training beyond his dental degree who specializes in cosmetic and general dentistry and is skilled at repairing and replacing damaged and missing teeth. At his Indianapolis office he offers dental implants as a permanent option to replace missing teeth to help restore the overall health of your mouth. If you have missing teeth and are curious if dental implants may be right for you, contact our office today at to schedule an appointment. We happily serve those who live in and near Indianapolis, Indiana.
What is a Dental Implant?
A dental implant is an artificial root made of titanium that is placed in the jawbone to support a replacement tooth, generally dental crown. If you have a missing permanent tooth as a result of decay or an impact to the jaw, dental implants fill the gaps between your existing teeth to promote healthy jaw function.
Replacing a missing tooth is the best way to avoid these problems and dental implants can be a great solution to replace a tooth or multiple teeth. If you decide that an implant is the right procedure for you, specific plans are made to best suit your situation. Dr. Phelps' goal is to provide his patients with implant replacement teeth that look and feel wonderful.
There are many negative effects of missing teeth, beyond diminished confidence, that affect your oral health, which include:
The Dental Implant Process
The dental implant process is an investment in time. From your first consultation until the final replacement crown is placed, multiple visits and months are required to fully integrate the implant into your mouth. Yet, to many, they're undoubtedly worth it. If cared for properly through the use of sound dental hygiene practices, these implants can last for the rest of your life. The implant process varies on the individual, but is generally as follows:
Implant Dentistry Candidates
While anyone with a missing tooth may be a candidate for dental implants, there are certain factors that may disqualify you from candidacy. You need significant bone density in your jaw and healthy gums to be an ideal candidate. The only way to know for sure if dental implants are the right choice for you is to arrange a consultation with Dr. Phelps. He'll examine your teeth, gums, and jaw to determine if the dental implant procedure is right for you.You may be a candidate for dental implants if you:
That last point is particularly important. Dental implants get their incredible strength and durability from the process of osseointegration, which integrates the implant into the jaw itself. If you lack sufficient jawbone density, there are options, including a bone graft that can help prepare you for the implant procedure. However, this can lengthen the process and cause additional expense.
Contact Your Indianapolis Implant Dentist Today
While there are multiple options to replace severely damaged or missing teeth, dental implants can provide a permanent solution and help maintain your overall oral health. At our office we believe that everyone deserves a bright, healthy smile and Dr. Phelps has the knowledge and experience to help your smile look and feel its best. If you want to learn more about the potential of dental implants and you're looking for a provider you can trust, please call the office of Dr. John Phelps today at 317-818-9858 for a consultation. We provide beautiful smiles to Indianapolis and other nearby areas of Indiana.