Who doesn't want a whiter smile? Although you can find a number of over-the-counter products that claim to brighten teeth, most patients require professional treatment to achieve the results they want.
Porcelain veneers are among the most effective and versatile options for improving your smile. Not only can they make your teeth whiter, but they can also improve the shape of individual teeth.
Dr. John Phelps has extensive experience helping patients achieve brand-new smiles with porcelain veneers. See our before-and-after gallery for sample veneers results.
Why Veneers?
With all the cosmetic dentistry options to choose from, it is important to consult a dentist who can discuss the advantages of different treatments as they apply to your specific concerns. Porcelain veneers are highly customized, and they can address a wide range of aesthetic issues.
Veneers are an effective solution for:
Repairing teeth that are chipped or cracked
Concealing stains and discolorations on the teeth
Covering gaps and spaces in between teeth
Lengthening worn teeth
Revising misshapen teeth
Many patients experience a boost in self-confidence after getting their veneers. They smile more, they feel more sociable, and they enjoy long-lasting improvement to their appearance.
Are Porcelain Dental Veneers the Right Choice for Me?
When considering porcelain veneers, keep in mind that they do require some preparation of the tooth. You will need to have enough existing tooth structure to support the veneer.
In addition, porcelain veneers are permanently bonded to the teeth. Although dental porcelain is strong and durable, you will need to use caution when eating hard or crunchy foods and refrain from habits that can damage the veneers (such as chewing on fingernails, pen caps, etc.).
On the upside, dental porcelain is resistant to staining. Many patients with persistent stains that don't respond to teeth whitening are able to see dramatic results with dental veneers, with the added benefit of not having to worry about the stains coming back.
If you are considering braces to close spaces between your teeth, veneers may be an effective alternative. Porcelain veneers can overlay gaps in your smile, creating a streamlined appearance to the teeth. It is important to note that veneers do not actually realign your teeth and bite the way braces do. So, while veneers may achieve similar cosmetic benefits, functional changes to the alignment and spacing of the teeth may require orthodontic treatment.
You will be able to preview available shades of dental porcelain and select the color of your veneers. Dr. Phelps can help you choose the color that best complements nearby teeth, enabling you to customize both the porcelain veneers and the overall look of your smile.
Why Choose Dr. Phelps for Porcelain Veneers
Dr. Phelps has decades of experience providing customized porcelain dental veneers and other cosmetic dentistry treatments. Our Indianapolis office is equipped with a state-of-the-art CEREC machine. This advanced technology is beneficial for your schedule, as it allows veneer fabrication and placement of permanent restorations in a single appointment.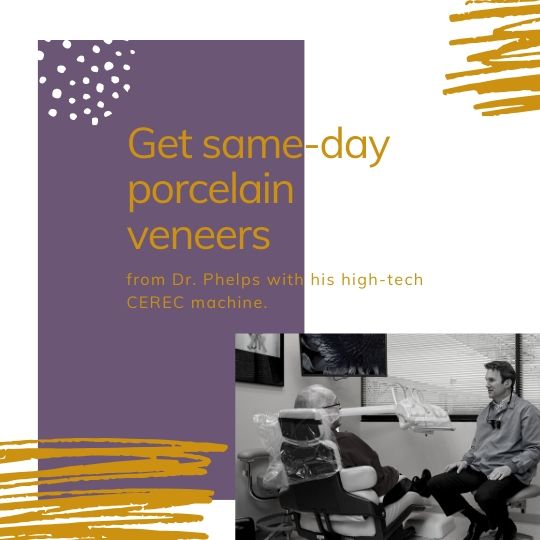 After examining your teeth and taking digital photos, Dr. Phelps will use special software to specify the size, shape, and color of your veneer. The CEREC machine mills porcelain into a permanent veneer, which Dr. Phelps will be able to place and fit to your tooth during the same appointment.
Patients love CEREC because they only have to come to our office once, they don't have to deal with temporary veneers, and they are able to leave with a restored smile.
Discover what porcelain veneers can do for your smile. Please call 317-548-6217 today to schedule your consultation with Dr. John R. Phelps. Dr. Phelps serves patients throughout the Indianapolis area, including Carmel, Noblesville, and other nearby communities.