When you trust a dentist to restore your smile, you want to be confident you're getting the best care possible. With the plethora of options available, that can be hard to do. How do you know you're in good hands?
If you see a prosthodontist such as Dr. John R. Phelps, you can be confident you're receiving the highest standard of dental care. As a prosthodontist, Dr. Phelps went through rigorous additional training. He takes a holistic approach to your oral health and giving you a smile you're proud to show off. Read on to learn about the difference between prosthodontists and other dentists, and why Dr. Phelps strives to offer unparalleled treatment to his Indianapolis patients.
What is a Prosthodontist?
Prosthodontistry is a specialized dental field that focuses on restoration, specifically tooth loss and jaw issues. Prosthodontists work on medical and cosmetic levels. They fix dental problems to help give you a functioning bite, strong teeth, and healthy gums while also making your teeth look natural and attractive.
Prosthodontists are specially trained in areas that include:
What is the Difference Between Prosthodontists and Other Dentists?
General dentists do the basic work to keep your teeth working and healthy. When you have more specialized needs, they'll refer you to a prosthodontist. Prosthodontists are the leading experts for any type of restorative dentistry. In fact, the term "prostho" comes from a Latin root meaning "to restore."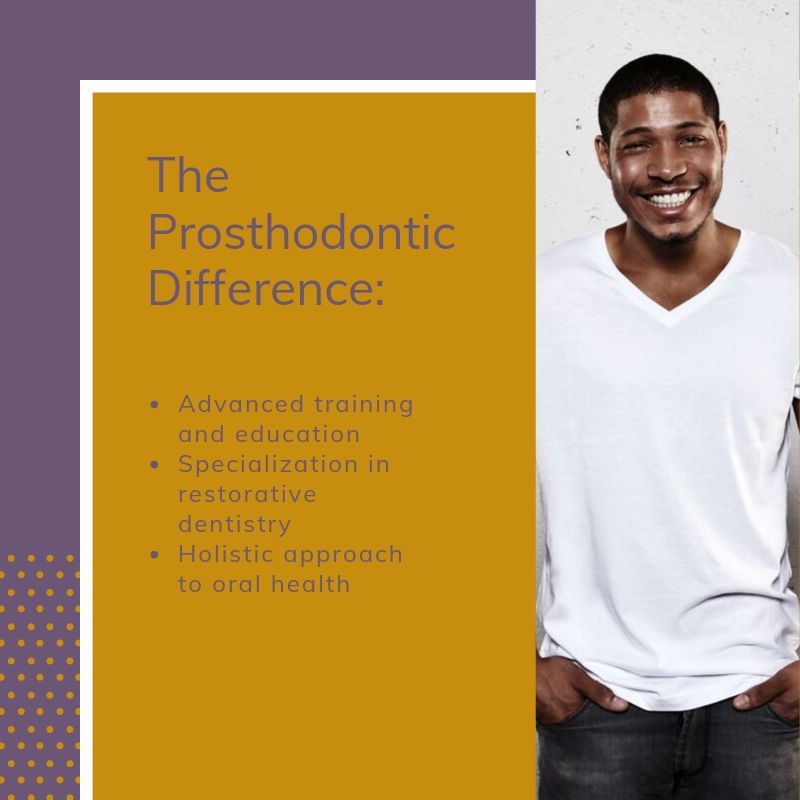 Prosthodontists also undergo additional training and education that general dentists don't. Dr. Phelps attended four years of dental school at Indiana University to become a doctor of dentistry, then underwent three more years of schooling at IU's American-Dental-Association-accredited graduate school to become a prosthodontist. That extra education is similar to a medical residency that doctors go through to achieve a specialization.
The Dr. Phelps Difference
Dr. Phelps believes in providing his patients with the highest-quality dental care. That's why, in addition to his training in prosthodontics, he uses advanced dental technology to meet the unique needs of every patient. By combining his rigorous education with state-of-the-art equipment, Dr. Phelps can offer top-notch treatments.
Dr. Phelps utilizes technology such as:
CEREC: This uses computer-assisted design and manufacturing to give patients same-day dental restorations. High-quality digital images of your teeth will be uploaded to the CEREC machine, which will convert the images into a 3-D model. The model will be designed to match the color, shape, and bite of your surrounding teeth. A milling machine will make the model, and your restoration will be ready. This technology, combined with Dr. Phelps' prosthodontistry expertise, means nearly any dental issues can be resolved quickly.
 
3-D imaging: Seeing the problem is the first step to fixing it. Dr. Phelps uses advanced imaging technology to get the most precise possible picture of your teeth, gums, and jaw. This makes many prosthodontic treatments, such as the placement of porcelain veneers and dental implants, far easier.
Contact Our Indianapolis Prosthodontist Today
Dr. Phelps is committed to giving his patients the best dental care possible. He serves Carmel, Noblesville, and surrounding areas of Indianapolis. Call 317-548-6217 today to schedule a consultation.