August is National Coffee Month, but before you celebrate with an increased intake of America's favorite beverage, take a moment to consider the impact coffee has on teeth.
Coffee is one of the most common causes of tooth discoloration. Even an inconsistent coffee habit can hasten a yellowing of tooth enamel – and a daily habit can turn even the most pearly of whites to a dull brown over the course of just a few weeks.
More than just an aesthetic concern, coffee encourages acid production from bacteria in the mouth. This acid, when left in place, can quickly erode enamel, resulting in tooth sensitivity along with increased risks for infection and decay. This is to say nothing of the impact coffee has on the breath.
A look at the impact coffee has on teeth may prompt some to swear off the stuff. But not all news is bad news for coffee drinkers. Many of the problems coffee causes can be mitigated with proper oral hygiene.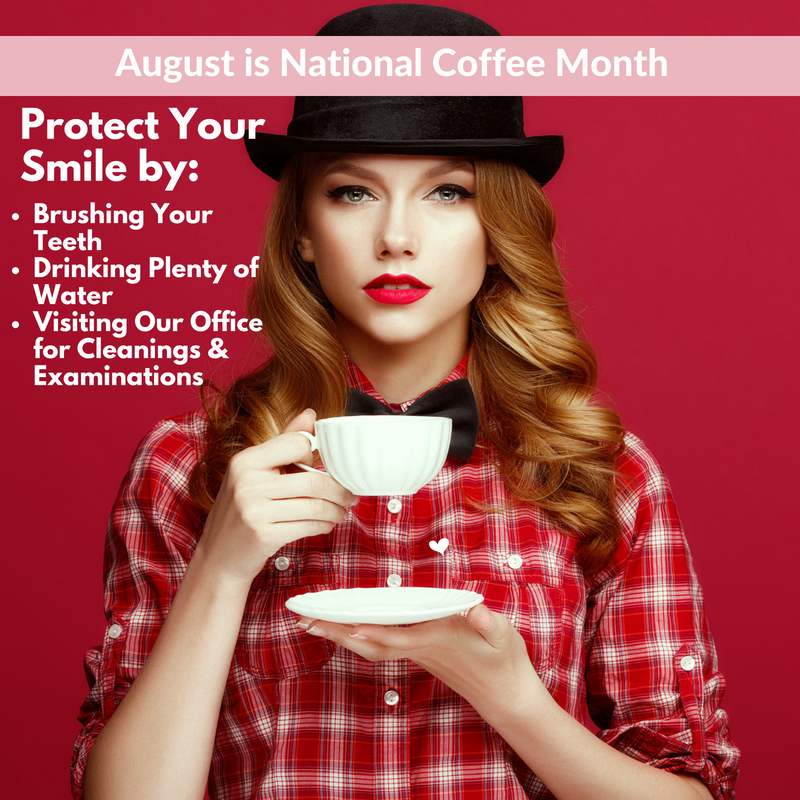 Reducing Damage Without Quitting Coffee
First and foremost, water is your friend. If you drink coffee, match that intake with water consumption. In fact, double your water consumption to help reduce the diuretic impact of coffee while also washing its coloring agents and acids from the teeth. Drinking water throughout the day can greatly reduce your risks of developing a number of oral health issues.
In addition to drinking water, be sure to brush your teeth after drinking coffee – just not right after drinking coffee. Because coffee is acidic, it is best to drink water first and to wait for around 30 minutes to run a soft-bristled toothbrush over your teeth. This will help reduce your risks of removing enamel that has been temporarily softened through coffee consumption.
Brushing your teeth will also help reduce the impact coffee has on the breath and will help reduce your risks of developing aesthetic issues such as black hairy tongue and tooth excessive discoloration.
If discoloration becomes an issue, you can try an at-home tooth whitening option, just be careful. Activated charcoal, apple cider vinegar, and other folk remedies may seem like miracle fixes, but they can do significant damage to the teeth. When combined with acids from coffee, the damage from these DIY tooth whitening methods may be irreversible and require expensive cosmetic services to correct.
Lastly, be sure to visit our office every six months for cleanings and examinations. Not only will this allow us to polish your teeth, it will allow you to learn about options, such as professional teeth whitening, that can help reduce the damage done by coffee.
Please call 317-548-6217 to schedule your consultation today. Dr. Phelps welcomes patients from Indianapolis, Carmel, Noblesville, and all surrounding areas.